Jackie Alexander DiPofi, Ph.D.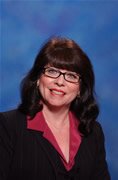 Dr. DiPofi has over 40 years of business work experience having started her career in 1971 at the Southern Poverty Law Center. She began her teaching career at Auburn University at Montgomery in 1989 where she taught Principles of Management, Organizational Behavior, Management of Organizations, and Concepts of Business.
In 2004, she taught Small Business Management for the College of Veterinary Medicine at Auburn University, and in 2009 joined the faculty of the Thomas Walter Center of Technology Management in the College of Engineering to co-teach Integrating Business and Engineering Theories with Practice.
As Director of the Small Business Development Center (SBDC) at Auburn University from 2001 to 2012, she conducted programs throughout the country including training for the Southern Medical Association, Alabama Society of Certified Public Accountants, the Southern Regional Radon Training Center, and Auburn Bank.
In 2004, the AU SBDC, under Dr. DiPofi's leadership, was recognized as the #1 SBDC in the state. In 2007 DiPofi was selected to serve as the Associate State Director of the Alabama Small Business Development Consortium, charged with the responsibility of overseeing the accreditation process of the Consortium by the national Association of Small Business Development Centers.
The SBDC operates as a partner to the U. S. Small Business Administration through counseling and training to promote start-ups, expansion, innovation, increased productivity and management improvement. Under Dr. DiPofi's direction, the AU SBDC has been recognized as playing a key role in the Auburn-Opelika area receiving national recognition as one of the best places in the country for small business.
In 2009, DiPofi's dissertation, "Effects of Family Influence on Satisfaction with Financial Results," was published by VDM, a scientific publishing house located in Germany, and made available for sale worldwide through Amazon.com.
In 2002, she published in Journal of Organizational Change Management, 15, No. 2, 156-168, and in 2001 in Health Marketing Quarterly, 19 (1), 79-90. She is the creator of the RAMPS Model for Marketing Success. Since its inception in 1983, the RAMPS Model has been used by thousands of individuals, and praised for its effectiveness.
DiPofi, a native of Montgomery, Alabama, earned a bachelor's degree and a master's of business administration degree from The University of Alabama (1979, 1988) and earned a doctorate degree from Auburn University (2003).
She serves on the Community Reinvestment Act Council for BancorpSouth, Opelika, Alabama and on the Board of Directors of the Auburn Chamber of Commerce. She is Immediate Past President of the Board of the Greater Peace Community Development Corporation and past President of the Society for the Advancement of Management, Auburn, Alabama chapter.
Jackie and husband David have a 17 year old son, Anthony.