Business owners should approach their tasks ahead as scientists, turning to tested models for help. Business owners can use the basic models of science to guide strategy development, to assess their situation, and to not only be ready for the turnaround, but to make it happen. In the practical world, the scientific approach is step-by-step tasks to perform, results to measure, and actions to take in your business. The world of science includes marketing (Mills, H., 1961; Wilkie and Moore, 2003) and using proven models for decision making (Gupta and Mela, 2008; Kotler, 1970; Ireland, Hitt, and Sirmon, 2003). Linking science and business, the model offered to practitioners in this article is the RAMPS marketing plan model.
RAMPS is an acronym for Research, Advertising, Merchandising, Promotions, and Sales. The RAMPS marketing plan model focuses on the marketing function of business management (Webster, 2009). The RAMPS marketing plan model has been used and tested in business and academia since 1983 and is a practical tool which draws from science for planning and implementing business marketing activity.
Adjusting to the Great Recession with RAMPS marketing plan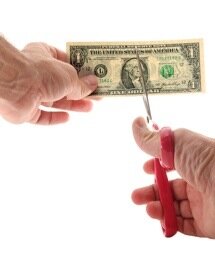 As the nation adjusts for a downsized economy, business owners are forced to take decisive actions in the face of unprecedented changes happening daily. In most American work environments, the pressure to be more effective and more efficient is greater than ever before. Small business owners who have been struggling for three years or more are at the end of any contingency plans or "Plan B's" they built into their budget or schedule. Decreasing sales and increasing compliance costs, spiraling in a turned-upside-down banking and non-lending environment does not make for a fun ride.
RAMPS Marketing Plan Banking on what?
We cannot even bank on banks in this environment. Bankers, banks, and bank regulators do not lend when the risk is high, so it makes sense that the flow of cash in the business world has been hampered by recent credit and lending practices, but the problems of the current economy go far beyond difficult banking. As an astute business person pointed out, "Lack of sales is the problem." At the heart of a historical major cash flow dilemma is the fact that neither consumers nor businesses are consuming at rates of the past. The current management problem is an old one–how to increase sales—but the business environment is anything but an old one. Between the sheer explosion created by the internet, and the roller coaster ride related to the banking industry, the business landscape has changed forever. A large segment of the population now knows the meaning of "downsizing" and "foreclosure" first hand.
The democracy the American business people enjoy allows us to enter the business ownership arena at our own risks. If we want to stay there, we must respond to the changes in business, good and bad. To survive in this arena, we must manage the process, however painful it may be, to impact bottom lines; we must either get costs down or income up to pay our bills and keep the doors open. For most businesses, there is no more fat to trim; costs are down as low as possible already, so the only alternative to improve profitability and survival is to get sales income up.
While the business environment is frighteningly new, one fact has not changed. Successful business owners have learned the hard way that they can only bank on themselves. Business owners must strategically connect with their customers, prove their value to those customers, and move them through the awareness-to-completion stages in the buying process. Self-reliant business owners can update their sound marketing practices by turning to marketing as a science to get sales income up.
Marketing is something that most small business owners have done for themselves in the past, from inception of the business. Although marketing surrounds us all on a daily basis, it is hard to define and grasp as a single concept. RAMPS marketing plan can help cut through the confusion. Marketing with RAMPS as science in practice focuses on the part of the profit equation that increases sales income. With the RAMPS marketing plan model, a business owner can structure marketing through objective tasks, organizing those complex and numerous tasks toward a defined goal.