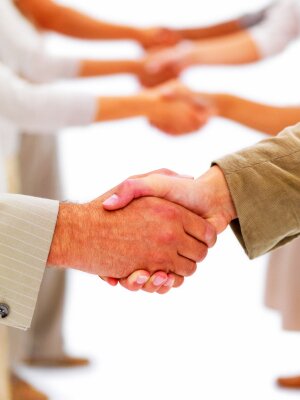 The last step in the RAMPS Plan to Marketing Success© is Sales. This step emphasizes the personal role that owners and employees serve in the overall marketing process. Face-to-face interactions with prospects and customers are critical moments to make sales and ensure repeat business. Often, business owners and employees have only a few minutes to make a positive impact, share information, and tug on the emotions of buyers, and close the sale. Being prepared to make the most of that limited time is a challenge that most individuals are not trained to do.
Sales is the personal element of marketing; It is the one-on-one interaction with the customer. Sales efforts can cause the customer to change their behavior in the desired way, through completing a financial transaction, or even making them think poorly about you and your company. The desired outcome, repeatedly exchanging their money for your services or products, is paved by all the other steps in the RAMPS Plan to Marketing Success©. The deal is closed in the sales process. The sales step is where you must secure customer satisfaction. By meeting the needs, wants, desires, and demands of your targeted customers, your company's income can increase. Increasing income is one of the ways to impact the bottom line of net income.
It is extremely important to have a business plan. A marketing plan is one element of the overall business plan. I strongly suggest that before you take action to market your business, look closely at your overall business plan. Ideally, you have spent hours developing a business plan, including research to develop a strategy to reach your goals. Imagine that you have defined your target market, spent money on advertising, and purchased merchandise to support the promotion for the opening of your business. You have spent time and money to promote your business and with all this completed, you come face-to-face with the person who is a prospect. What comes next? Sales.
In many cases, you will have about five minutes with a potential customer to close a sale. Your first encounter with a prospect may be during a promotion, in an environment that may or may not be an opportunity to close a sale. You may still be at the point of delivering a message, building goodwill, exchanging information, and communicating back and forth, but at some point, you must close the sale.

Until the prospect pays you money and you give them a product or service—the SALE has not happened. It is only at that critical moment that income increases. Unless you are successful in convincing your prospect to make a purchase, he or she will remain a prospect or worse yet, you will lose them to a competitor.
What is covered in Sales
Sales vs. Marketing
Who are your Salespeople?
Customer Service as Sales
Why do you need Sales Training?
Why measure Customer Profitability?
The Pain of Rejection
What comes after getting the customers attention?
Closing the Sale
The RAMPS Plan should become an integral part of your business as an ongoing process. The more successful the implementation of the RAMPS Plan to Marketing Success©, the more successful your business will be. Sales is a decisive step in the marketing process. If you do everything else, but you do not turn prospects into customers or turn customers into repeat customers, your business is doomed to fail.