Small Business Consultant, Dr. DiPofi, Helps Local Business Grow
This article is excerpted from "Who I Went to When I Needed Help" at BusinessAlabama.com by Charles Ingram. A portion of that article which references small business consultant Dr. Jackie Alexander DiPofi is repeated here.
SaVvy Helps Shine It Polish its Image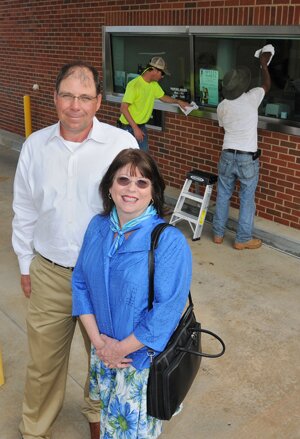 Brian Peterson is one of those guys with a working man's Ph.D. But when he needed advice about his business late last year, he turned to a woman who holds a bona fide Ph.D. The result — a review of Peterson's sales process and the anticipation of a significant new piece of business.
An Andalusia native, the 47-year-old Peterson attended college for a year before working seven years on more than two dozen oil rigs in the Gulf of Mexico. There, he learned how to clean equipment and machinery, and he took that experience with him. Subsequently unfulfilled as the manager of a tire store, Peterson started a cleaning business on the side.
In 1996, he went full time with his Cecil-based Shine It Co., which focuses on cleaning "external customer contact points" — things like bank ATMs, teller windows, kiosks, tubes and night drops. The company also does pressure washing and provides other cleaning services.
His company's first customer was a Colonial bank branch — the same branch that gave him a loan to start his business. After Peterson cleaned that branch's ATM, "It was only a few more steps up the ladder, and I was cleaning all of Colonial's ATMs," he says. "That was ATMs at 380 locations in four states."
Shine It Co. has done business with several major banks and other customers the past 17 years, and it weathered the recession of 2008. But last fall, when the company suddenly lost a third of its sales, Peterson contacted Jackie Alexander DiPofi, Ph.D., of SaVvy Business Services in Auburn.
DiPofi had just left the position of director at the Small Business Development Center, an outreach unit at Auburn University partially funded by the U.S. Small Business Administration. DiPofi held that position for 11 years and had known Peterson for much longer than that. Peterson, stung by Shine It Co.'s loss of revenues, felt comfortable looking to DePofi for direction.
"Brian had survived this terrible, terrible economy, but when he contacted me, Shine It had excess capacity," DiPofi says. "He has limited resources, no extra cash and no extra time. He is really good at what he does, but he came to me for advice on the business side, and asked, 'How do I grow my business?' And I said, 'Let's start by looking at your sales process.'"
The two worked together to simplify Peterson's selling efforts, develop a better way to contact customers and improve efficiency and effectiveness. "We started with a simplified form that has information about the services that Shine-It offers, pricing and contact information," DiPofi says. "It's a simplified form that the customer can sign on the spot.
"Then we looked at his process for contacting customers, and we made sure that past customers were included along with new prospects, because it costs less to do repeat business than it does to get new customers. We looked at efficiency — doing more with less — and effectiveness — achieving a defined goal. We've done a lot of things, and now I'm helping Brian close his first sale since we started working together back in October."
According to Peterson, "I had always done the sales myself, but Jackie has more technical skills and communication skills than I do.
"She has a more professional approach with customers," he says, adding, "I'm much more comfortable in the country on a job site than I am in a boardroom meeting."
Peterson now looks at DiPofi as his marketing director, and at times she makes sales presentations on his behalf. "I'm not as technically savvy as I could be, and that was a possible reason we lost a third of our business," Peterson says. "That's why I asked Jackie for her help. I don't want my lack of technical expertise to be a factor" in the business' performance.
For DiPofi, SaVvy Business Services is a scary yet exciting venture. "When I was at Auburn University, I worked with businesses in an eight-county area," she says.
"Now, I'm working with companies all over the nation. I'm in discussion with one company headquartered in France. It's much more of national-global world for me now."
If DiPofi and Peterson successfully wrap up their first new piece of business, that could create a nice problem for Shine It. "If we got a major deal, I would have to add more people," Peterson says.
To discuss how a small business consultant could help your company call Dr. Jackie Alexander DiPofi today.